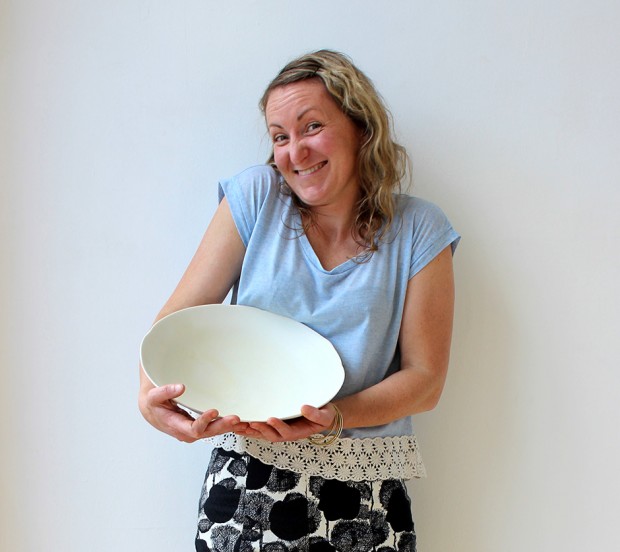 Joanna's unique style of  work has won her a number of awards, DCCoI Future Maker Studio Support Award 2015, The Design and Craft Council of Ireland purchase award 2014/2015, and the RDS National Craft Awards 2014 to name a few. Joanna makes both functional and sculptural pieces. Everything is thrown on the wheel or hand built. Joanna mainly works with porcelain but also likes to experiment with other clay bodies.
Joanna graduated from Limerick School of Art and Design in 2004 with a honours Degree in Fine Art, Painting. After college she lived in Toronto, Canada for five years. Leaving Canada, Joanna spent a year and a half traveling throughout Southeast Asia, Borneo, India and Sri Lanka. As an Artist, Joanna believes her work is ever changing and evolving. Having experienced Ceramics in her first year at Limerick she wanted to broaden her skills and develop her interest in three-dimensional form.
She returned to Ireland in 2012 and was accepted onto the Design and Craft Council of Ireland's Ceramic Skills and Design Course.
Joanna won the Design and Craft Council of Ireland purchase Award at her 2014 DCCOI Graduation show at the National Craft Gallery Kilkenny. Her work was also exhibited at the 2014 RDS National Craft Awards which display the best of Irish Craft, chosen by the judges for their excellence in craftsmanship, design, creativity, innovation and presentation.
Joanna makes finely thrown functional and Artistic ware. Inspiration for the work comes from simple elegant forms and an appreciation of the golden ratio, anything from flowers and petals to modernist architecture and design. Consideration is given to every detail in both functional and sculptural pieces, the rim, the base, the weight, the balance, the form all corresponding and working together.